World map is not updated, and your API proves it.
Hello,

Many times players asked for an updated World map, notably by adding recently covered countries (ex: Sri Lanka, Kyrgyzstan, Senegal, Ghana, Guatemala...). Usually you answered that those countries are already in the World map, but aren't picked often because of their small size or small coverage. But, by asking lot of regular players and streamers, it is obvious that some countries never appears, or with photospheres instead of official Streetview.

Recently someone from the subreddit found that Geoguessr has an API. I don't know why there is nothing about it (no docs, not even a word somewhere on the website), but we discovered that we can gather data quickly about leaderboards, activities etc. So we took around 2000 latest games played on the World map (1870 games of 5 rounds, for a total of 9350 locations), and displayed all the locations on this map:

https://www.zeemaps.com/map?group=2878134

As you can see, it shows a pretty accurate representation of what the World map usually gives. But you can also see some countries that are never selected despite of having Streetview; Guatemala being the obvious one considering its pretty good coverage.

By looking at the date of every country's first Streetview addition and crossing the data with the locations, I estimate the last time you updated the World map somewhere between December 2015 and February / March 2016. The most recent country that is on the World map is Uruguay (added in December 2015 on Streetview), all the newer countries are not on the map, except with photospheres that were uploaded before 2016.

Two countries also confirm the lack of update: South Korea and Indonesia:
• South Korea's coverage was only Seoul and Busan areas, but in June 2017 many more areas were added. In the latest World games, all locations outside of Seoul and Busan are photospheres, despite of Streetview being right next to them. Only the location in Jeju island isn't a photosphere, but it is a beach trekker view taken by Google few years ago (May 2014). I got it multiple times already.
• Indonesia coverage consisted of Sumatra, Java, Bali and the island east to Bali for a long time. Since, Google covered almost all the other islands, including the big islands of Kalimantan and Sulawesi, but your World map never picked a Streetview there, only some photospheres. Same for all the other islands.

Even in Sri Lanka, the World map took a photosphere that is literally on a road with Streeview! Here is the picture: https://i.imgur.com/RxwPsHb.png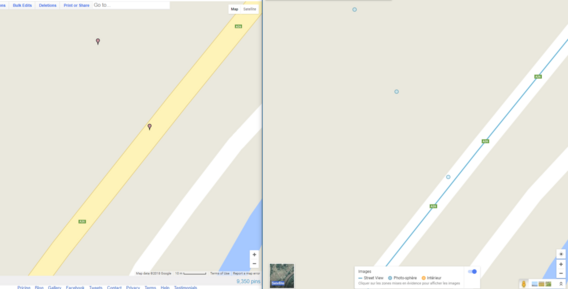 (also notice the two locations selected there, very close to each other, are photospheres).

And what about Malta, that never get selected despite of a very good coverage, when the small Italian island of Pantelleria west of it got 3 selected locations?

When checking the locations, to see if there were photospheres, I even recognized many of them that I already got before (the one north on Philippines, the one in West Sulawesi...), which make us think it's like a predefined list of locations.

The excuse of "small country / coverage" doesn't work there. See the location in Uganda? It is a regular Streetview location. Uganda's coverage is only the capital area (Kampala - Entebbe), way smaller than the coverage or Senegal or Ghana, or even Lagos state in Nigeria. So why those countries never get selected in more than 9000 rounds? It just can't be "luck".

Here is the list of countries / territories that have Streetview but aren't selected by the World map:
• Réunion: nothing, I only remember getting a photosphere of a fitness club there
• Sri Lanka: only photospheres, including the one literally on a streetviewed road
• Kyrgyzstan: nothing
• United States Virgin Islands: nothing
• Albania: one photosphere... in the sea...
• Montenegro: nothing
• Puerto Rico: nothing
• Ghana: one photosphere
• Senegal: one photosphere
• Tunisia: photospheres only
• Guatemala: nothing
• Saint Pierre and Miquelon: nothing (but very small coverage, not really important)
• Malta: nothing (while Pantelleria, a smaller Italian island close, got 3 places)
• South Korea: outside of Seoul and Busan: only photospheres when regular streetview now exists; as Seoul and Busan was on streetview since years, Geoguessr only pick regular coverage here
• Nigeria: one photosphere only in Lagos state (the only state officially streetviewed)
• Faroe Islands: nothing

And what a surprise, it's exactly all the countries listed there after the beginning of 2016 when you sort the countries by their date of addition : https://en.wikipedia.org/wiki/Coverage_of_Google_Street_View#Coverage_by_country_%CE%BFr_territory

So yes, there is an update needed on the World map. Everything there confirms. Many players ask for it. Big streamers playing the game on Twitch talk about it. Geoguessr is getting more and more visibility from big youtubers and streamers, it would be sad to see players going away, tired of getting the same countries and never getting new places to visit. It's not only a matter of 1% of the player base from a subreddit, but the whole player base that is affected by this.

We really hope you'll finally do something about this problem that has been there for almost 2 years now. Thank you for reading.